Proof of Concept for authenticating via a QR code.
The question here is whether we can provide a relatively-secure method of logging into a web application via scanning a QR code. A user may be too encumbered to access a keyboard but can still access a QR scanner. The proposed process hits two of the three authentication factors:
(i) something you know (e.g. password/personal identification number (PIN));
(ii) something you have (e.g., cryptographic identification device, token);
or (iii) something you are (e.g., biometric).
A user would enter their PIN into a device and then would be presented with a QR code to scan. The QR code would contain a time-based one-time-password (TOTP), generated from a combination (hash) of a shared secret and the user's PIN. The server would then be able to generate it's own TOTP based on a hash stored in the DB (the user would configure their PIN on the web app). The server would never need to store the PIN or the shared secret. It would only need to store the hash of the shared secret + the user's chosen PIN.
Issues to work out
I haven't come up with a good solution for how to populate the device with the shared secret (aside from setting it up for an end user). We'd want an easy way to reset that secret in case the device was ever compromised. Also, a three-character-based PIN does not provide very much entropy.
QR Authentication Flow
Device Prototype
I prototyped the functionality out on a Raspberry Pi Pico-based Badger2040.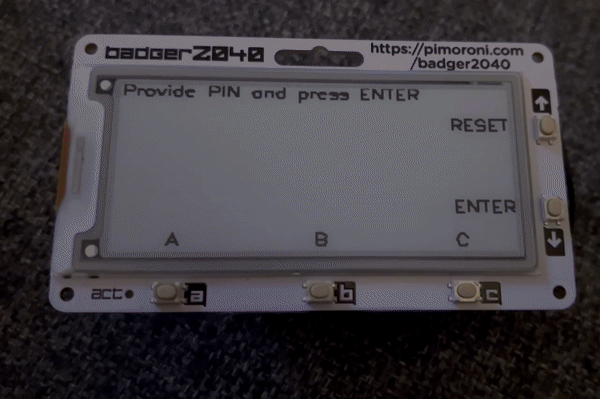 Here is some quick-and-dirty Python:
import

 badger2040


import

 qrcode


import

 time


import

 os


import

 badger_os


import

 base64


import

 hashlib


import

 binascii


from

 totp 

import

 totp


from

 machine 

import

 Pin

secret 

=

 

'secret'


pin_string 

=

 

''


one_time_password 

=

 

(

)


rtc 

=

 machine

.

RTC

(

)


time_remaining 

=

 

0


changed 

=

 

False





def

 

a_button_callback

(

pin

)

:


    

global

 pin_string
    changed 

=

 

False


    pin_string 

+=

 

'a'


    

print

(

pin_string

)





def

 

b_button_callback

(

pin

)

:


    

global

 pin_string
    changed 

=

 

False


    pin_string 

+=

 

'b'


    

print

(

pin_string

)





def

 

c_button_callback

(

pin

)

:


    

global

 pin_string
    changed 

=

 

False


    pin_string 

+=

 

'c'


    

print

(

pin_string

)



button_a 

=

 Pin

(

badger2040

.

BUTTON_A

,

Pin

.

IN

,

Pin

.

PULL_DOWN

)


button_a

.

irq

(

trigger

=

Pin

.

IRQ_FALLING

,

 handler

=

a_button_callback

)


button_b 

=

 Pin

(

badger2040

.

BUTTON_B

,

Pin

.

IN

,

Pin

.

PULL_DOWN

)


button_b

.

irq

(

trigger

=

Pin

.

IRQ_FALLING

,

 handler

=

b_button_callback

)


button_c 

=

 Pin

(

badger2040

.

BUTTON_C

,

Pin

.

IN

,

Pin

.

PULL_DOWN

)


button_c

.

irq

(

trigger

=

Pin

.

IRQ_FALLING

,

 handler

=

c_button_callback

)



display 

=

 badger2040

.

Badger2040

(

)





def

 

measure_qr_code

(

size

,

 code

)

:


    w

,

 h 

=

 code

.

get_size

(

)


    module_size 

=

 

int

(

size 

/

 w

)


    

return

 module_size 

*

 w

,

 module_size




def

 

draw_qr_code

(

ox

,

 oy

,

 size

,

 code

)

:


    size

,

 module_size 

=

 measure_qr_code

(

size

,

 code

)


    display

.

pen

(

15

)


    display

.

rectangle

(

ox

,

 oy

,

 size

,

 size

)


    display

.

pen

(

0

)


    

for

 x 

in

 

range

(

size

)

:


        

for

 y 

in

 

range

(

size

)

:


            

if

 code

.

get_module

(

x

,

 y

)

:


                display

.

rectangle

(

ox 

+

 x 

*

 module_size

,

 oy 

+

 y 

*

 module_size

,

 module_size

,

 module_size

)





def

 

draw_button_text

(

)

:


    display

.

pen

(

15

)


    display

.

thickness

(

1

)


    display

.

rectangle

(


        

127

,

 

# int: x coordinate of the rectangle's top left corner


        

0

,

 

# int: y coordinate of the rectangle's top left corner


        

170

,

 

# int: width of rectangle


        

128

  

# int: height of rectangle


    

)


    display

.

pen

(

0

)


    display

.

text

(


        

'Provide PIN and press ENTER'

,

 

# string: the text to draw


        

128

,

            

# int: x coordinate for the left middle of the text


        

5

,

            

# int: y coordinate for the left middle of the text


        scale

=

0.38

,

    

# float: size of the text


        rotation

=

0.0

  

# float: rotation of the text in degrees


    

)


    display

.

thickness

(

2

)


    display

.

text

(


        

'RESET'

,

 

# string: the text to draw


        

250

,

            

# int: x coordinate for the left middle of the text


        

30

,

            

# int: y coordinate for the left middle of the text


        scale

=

0.5

,

    

# float: size of the text


        rotation

=

0.0

  

# float: rotation of the text in degrees


    

)


    display

.

text

(


        

'ENTER'

,

 

# string: the text to draw


        

250

,

            

# int: x coordinate for the left middle of the text


        

95

,

            

# int: y coordinate for the left middle of the text


        scale

=

0.5

,

    

# float: size of the text


        rotation

=

0.0

  

# float: rotation of the text in degrees


    

)





def

 

draw_intro_text

(

)

:


    display

.

pen

(

15

)


    display

.

thickness

(

2

)


    display

.

rectangle

(


        

0

,

 

# int: x coordinate of the rectangle's top left corner


        

0

,

 

# int: y coordinate of the rectangle's top left corner


        

296

,

 

# int: width of rectangle


        

128

  

# int: height of rectangle


    

)


    display

.

pen

(

0

)


    display

.

text

(


        

'Provide PIN and press ENTER'

,

 

# string: the text to draw


        

1

,

            

# int: x coordinate for the left middle of the text


        

5

,

            

# int: y coordinate for the left middle of the text


        scale

=

0.5

,

    

# float: size of the text


        rotation

=

0.0

  

# float: rotation of the text in degrees


    

)


    display

.

text

(


        

'RESET'

,

 

# string: the text to draw


        

250

,

            

# int: x coordinate for the left middle of the text


        

30

,

            

# int: y coordinate for the left middle of the text


        scale

=

0.5

,

    

# float: size of the text


        rotation

=

0.0

  

# float: rotation of the text in degrees


    

)


    display

.

text

(


        

'ENTER'

,

 

# string: the text to draw


        

250

,

            

# int: x coordinate for the left middle of the text


        

95

,

            

# int: y coordinate for the left middle of the text


        scale

=

0.5

,

    

# float: size of the text


        rotation

=

0.0

  

# float: rotation of the text in degrees


    

)


    display

.

text

(


        

'A'

,

 

# string: the text to draw


        

40

,

            

# int: x coordinate for the left middle of the text


        

120

,

            

# int: y coordinate for the left middle of the text


        scale

=

0.5

,

    

# float: size of the text


        rotation

=

0.0

  

# float: rotation of the text in degrees


    

)


    display

.

text

(


        

'B'

,

 

# string: the text to draw


        

145

,

            

# int: x coordinate for the left middle of the text


        

120

,

            

# int: y coordinate for the left middle of the text


        scale

=

0.5

,

    

# float: size of the text


        rotation

=

0.0

  

# float: rotation of the text in degrees


    

)


    display

.

text

(


        

'C'

,

 

# string: the text to draw


        

250

,

            

# int: x coordinate for the left middle of the text


        

120

,

            

# int: y coordinate for the left middle of the text


        scale

=

0.5

,

    

# float: size of the text


        rotation

=

0.0

  

# float: rotation of the text in degrees


    

)






# wake = not badger2040.woken_by_button()


draw_intro_text

(

)


display

.

update

(

)


year

,

 month

,

 day

,

 wd

,

 hour

,

 minute

,

 second

,

 _ 

=

 rtc

.

datetime

(

)


last_second 

=

 second



while

 

True

:


    year

,

 month

,

 day

,

 wd

,

 hour

,

 minute

,

 second

,

 _ 

=

 rtc

.

datetime

(

)



    

if

 display

.

pressed

(

badger2040

.

BUTTON_UP

)

:


        pin_string 

=

 

''


        display

.

update_speed

(

badger2040

.

UPDATE_NORMAL

)


        display

.

clear

(

)


        draw_intro_text

(

)


        display

.

update

(

)


        time

.

sleep_ms

(

250

)



    

if

 display

.

pressed

(

badger2040

.

BUTTON_DOWN

)

:


        

print

(

str

(

month

)

 

+

 

'/'

 

+

 

str

(

day

)

 

+

 

'/'

 

+

 

str

(

year

)

 

+

 

' '

 

+

 

str

(

hour

)

 

+

 

':'

 

+

 

str

(

minute

)

 

+

 

':'

 

+

 

str

(

second

)

)


        changed 

=

 

True



    

if

 second 

!=

 last_second 

and

 time_remaining 

>

 

0

:


        last_second 

=

 second
        time_remaining 

=

 time_remaining 

-

 

1


        display

.

update_speed

(

badger2040

.

UPDATE_TURBO

)


        display

.

thickness

(

3

)


        display

.

pen

(

15

)


        display

.

rectangle

(

130

,

 

48

,

 

64

,

 

32

)


        display

.

pen

(

0

)


        display

.

text

(


            

str

(

time_remaining

)

,

 

# string: the text to draw


            

145

,

            

# int: x coordinate for the left middle of the text


            

64

,

            

# int: y coordinate for the left middle of the text


            scale

=

0.75

,

    

# float: size of the text


            rotation

=

0.0

  

# float: rotation of the text in degrees


        

)


        display

.

partial_update

(


            

130

,

  

# int: x coordinate of the update region


            

48

,

  

# int: y coordinate of the update region (must be a multiple of 8)


            

64

,

  

# int: width of the update region


            

32

   

# int: height of the 4update region (must be a multiple of 8)


        

)



    

if

 time_remaining 

<=

 

0

:


        

# Halt the Badger to save power, it will wake up if any of the front buttons are pressed


        display

.

halt

(

)



    

if

 changed 

and

 pin_string

:


        display

.

update_speed

(

badger2040

.

UPDATE_NORMAL

)


        display

.

thickness

(

1

)



        

print

(

pin_string

)



        s_and_p 

=

 secret 

+

 pin_string
        

print

(

s_and_p

)


        secret_and_pin_hashed 

=

 binascii

.

hexlify

(

hashlib

.

sha256

(

str

(

secret 

+

 pin_string

)

.

encode

(

)

)

.

digest

(

)

)


        

print

(

secret_and_pin_hashed

)


        secret_and_pin_hashed_and_encoded 

=

 base64

.

b32encode

(

secret_and_pin_hashed

)

.

decode

(

'utf-8'

)


        

print

(

secret_and_pin_hashed_and_encoded

)


        one_time_password 

=

 totp

(

time

.

time

(

)

,

 secret_and_pin_hashed_and_encoded

,

 step_secs

=

60

,

 digits

=

8

)


        

print

(

one_time_password

)



        code 

=

 qrcode

.

QRCode

(

)


        code

.

set_text

(

"LOGIN+"

 

+

 one_time_password

[

0

]

)



        time_remaining 

=

 one_time_password

[

1

]



        display

.

clear

(

)



        max_size 

=

 

min

(

128

,

 

128

)



        size

,

 module_size 

=

 measure_qr_code

(

max_size

,

 code

)


        left 

=

 

int

(

(

128

 

//

 

2

)

 

-

 

(

size 

//

 

2

)

)


        top 

=

 

int

(

(

128

 

//

 

2

)

 

-

 

(

size 

//

 

2

)

)


        draw_qr_code

(

left

,

 top

,

 max_size

,

 code

)



        draw_button_text

(

)



        display

.

update

(

)


        pin_string 

=

 

''



        changed 

=

 

False



    time

.

sleep

(

0.01

)



You can find the rest of the POC code here: https://github.com/arippberger/qr-login-poc